Provisional winner Daniels delegated to second with controversial penalty

September 26, 2004 – Jim Daniels, of Germantown, Tenn., took the checkered flag in first place Sunday, taking the Showroom Stock C class win at the 2004 SCCA National Championship Runoffs® Presented by Kohler at Mid-Ohio Sports Car Course. Later, the win would be taken away with a one position penalty.

Video of Race and Incident: Runoffs 04 SSC Contact (MPEG)  Runoff 2004 SSC Full Race (WMV)
LEXINGTON, Ohio (Sept. 26, 2004) – Jim Daniels, of Germantown, Tenn., took the checkered flag in first place Sunday, taking the Showroom Stock C class win at the 2004 SCCA National Championship Runoffs® Presented by Kohler at Mid-Ohio Sports Car Course. Later, the win would be taken away with a one position penalty.
Driving the No. 76 jimdaniels.com/Mazda/Hoosier 04 Mazda 3, Daniels topped the 39-car field to capture his first National Championship. Starting fourth, Daniels got a good jump at the green flag to move into third. After running in tight formation for several laps, Daniels passed Schroer to move into second position. Conserving his tires, he began to close on the leader in the late stages of the race. On lap 18, the lead duo went side-by-side into the Keyhole turn. Making contact, leader Ryan Ciechanski spun off-course, while Daniels took the lead. At the checkered flag, Daniels had captured the win by 4.757 seconds and an average speed of 73.748 mph.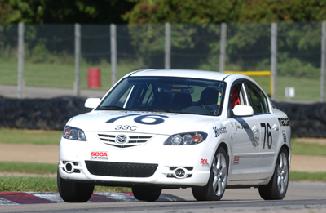 "Ryan [Ciechanski] was coming back to me," said Daniels. "I didn't have to push my car hard. He was slowing. He had a big push at turn one and I was able to get alongside going into the keyhole turn. He started inching over on me and we touched, I got by."
After passing the post race technical inspections, SCCA officials would penalize Daniels one position for the side-to-side contact that occurred with the #56 car. Final results list Daniels as the second place finisher.
Daniels was quoted saying "I do not agree with the decision as impeding a pass is equally an illegal move" also "maybe I'm wrong, watch the race and decide for yourself", "I'll be back next year to try it again".
Now in its 41st year, the SCCA National Championship Runoffs annually crown the best amateur road racers in North America Champions. More than 700 competitors have gathered this year to battle for 24 class titles this year, with eight races being run each day from Friday through Sunday.
Celebrating its 60th Anniversary, Sports Car Club of America is a 60,000 member motorsports organization that sanctions and promotes grassroots and professional motorsports events of a variety of disciplines, including road racing, autocrossing, road rally and performance rally.